News
Remembering Herzl on his 160th birthday
Reprinted from San Diego Jewish World
By Donald H. Harrison
SAN DIEGO — Theodor Herzl, whose 160th birthday was celebrated today, May 4, would not have been surprised by the anti-Semites who try to blame coronavirus on Jews or on Israel. Early in Herzl's career, he came to the conclusion that hatred of Jews was a permanent problem that Jews could never eliminate, but only learn to manage, Gol Kalev, chairman of the America-Israel Friendship League's think tank, commented on a worldwide webcast.
Aliza Lavie, a former Knesset member who now serves as the chairperson of the Herzl Institute in Jerusalem, agreed during the webcast that Herzl thought such mechanisms as assimilation, mixed marriages, integration, education, and financial success would not lead to Jewish acceptance in Europe. Instead, she said, he believed the key to ending 18 centuries of rejection was for Jews to establish their own state, unencumbered by the jealousy and envy of the Jew-haters.
In that Israel still has its enemies, Herzl's prediction–at least on that score –was wrong, Kalev said. But Lavie did not acquiesce to that suggestion; still more than half the Jews in the world live outside of Israel, she pointed out.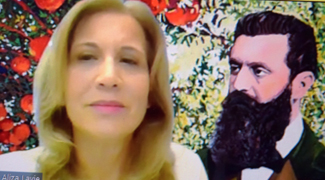 Lavie said that Herzl is not only a figure whose name is periodically studied in the history books; but is a person whose ideas about Zionism and the status of Jews in the world are as relevant today as when he wrote them in the late 19th century and early 20th century. "He leaves us an educational tool box," Lavie said, going on to urge that people study his books, diaries, plays and other writings where "we can find a lot of answers to our problems now."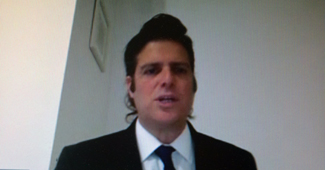 The hour-long webcast also included brief greetings from Israel's President Reuven Rivlin; Jewish Agency for Israel chairman Isaac Herzog, and Dore Gold, a former Israeli ambassador to the United Nations who serves currently as president of the Jerusalem Center for Public Affairs. The forum's moderator was Wayne Firestone of the America-Israel Friendship League.
In Canada, attorney David Matlow, who has collected 5,000 pieces of memorabilia relating to Herzl — a collection he believes in the largest in the world — shared with the audience the iconic photo (seen at top right) of Herzl leaning in apparent deep thought over a balcony in Switzerland, where the first Zionist Congress was held. The picture was on the face of a postcard that was autographed by Herzl.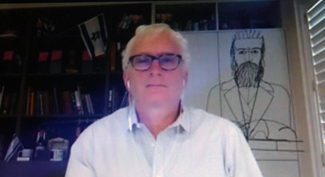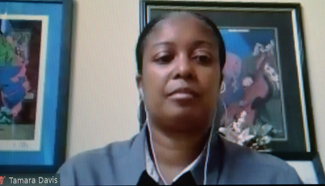 Matlow also was responsible for making contact with Tamara Davis, principal of the Herzl School of Excellence in Chicago, a K-8 school which is attended predominantly by African-American school children. She said that students there spend at least an academic quarter learning about Herzl's legacy of advocacy and leadership. While the school was started in the 1950s, when the population of the neighborhood was predominantly Jewish, Davis said Herzl's message also resonates with her fellow African Americans. She said it is important "to continue to be advocates for our community … to radiate decency." Davis also reported that in the Summer of 1966, the Rev. Martin Luther King Jr. moved into an apartment building around the corner from the school. She speculated that Herzl's message had an impact on King. Herzl and King both had dreams, both were leaders, and both gave back to their communities.
In another portion of the webcast, Kalev said some people mistakenly believe that there is a schism between Judaism and Zionism. But such was never Herzl's ideal, however non-observant he was. At the opening of the First Zionist Congress, Herzl began the proceedings with the recitation of the Shehekiyanu prayer, thanking God for bringing those present to that very special moment. In his speech to the Zionist Congress, Herzl said that Zionism presaged a return to Judaism, a return to the Jewish land. Zionism, in his view, was "a conduit for Jews to reconnect with their Judaism," Kalev said.
Lavie noted that on previous Herzl anniversaries, visitors, students, volunteers and soldiers would troop to Mt. Herzl, where the center is located, to celebrate Herzl's legacy. "This year we were able to bring Herzl's celebrations to everyone's home," she commented. During the time of the coronavirus pandemic, she said, the global Jewish community can become closer thanks to the Internet.
Agreeing, Kalev commented: "Israel is more and more a conduit to connect to Judaism" especially now that "we have Zoom and a global mentality." Programming brings Israel to America as well as to people outside of America.